It is a My days with Alivia have been getting more difficult. She continues to be clingy but it worsens each day. I noticed she was warm a couple of days last week so I took her temperature to find she had a fever. Other than being a little more clingy than usual, she was showing no other signs of being sick. I soaked it up to teething and gave her some Advil to reduce her fever and help with any pain that she may have been experiencing! Since those fevers, she has been doing much better. The clinginess, however, has not lessened. Not that I really expected it to. She has been wanting me to hold her 24/7. If I don't, God help me! She usually has a temper tantrum complete with bright red cheeks, choking on her saliva, moping, drooling, and arms extended reaching out for mommy. It's horrible to watch.
She had her first public meltdown this past weekend! I don't know if we are allowed back to The Cheesecake Factory. I've never been so mad, sad, disappointed, mortified, and completely embarrassed all at the same time. My hubby had to take her for a little walk just to calm her down. When he came back to the table, Livvy started right in again. She took one look at my face and started to cry all the while demanding to be held. It's as if she knows that I feel bad saying no to her. It's amazing the way she plays me! We were lucky that it was loud in the restaurant and that her cries were muffled by the crowd! The hubby and I had so many errands to get done that day that I had given into Alivia a few times just so that I didn't have to listen to the crying. God, the crying! It will drive you crazy! I walked the entire length of the mall with Alivia in my arms until they began burning and shaking. Although it was a VERY productive day, I almost wished we just stayed home.
Right now, she is on my lap and will not sit alone! I try not to feed into the tantrums but have been finding it very difficult! Especially at feeding time. If I don't give in, she will get so worked up that she will not eat which makes me crazy. I get worried when she is not eating enough.
I have to work on not giving in to her. When I do, I am just promoting her bad behavior and I really don't want to do that! I've always said that we will not raise BRATS in this house! After speaking with my sister about this yesterday, she made a VERY good point. Not that I would expect anything less from my sister. She asked me how Alivia will ever learn to cope if I keep giving into her. She's so right. I definitely want Alivia to be able to cope. She should be able to figure out alternative ways to be happy when mommy is not holding her. I am not always going to be physically there for her. I want for her to be able to play and live independently, within reason of course.
I can't say it enough that I NEVER thought that I would be such a whipped and wimpy mother. Before Alivia, I was one tough cookie! I never thought in a million years that I'd be hesitant to discipline in fear of my child possibly thinking that mommy doesn't love her! Really? I don't want to be THAT mom! It makes me sick to my stomach to think that I so easily could be. The easiest way for me not to fall into the category of 'mom's trying to be their children's friend and not their mother' is to continuously be aware and realistic about how I approach these types of situations. I will make a promise to myself to keep working on whatever is difficult for me all the while trying to remember that I'm doing it for her own good.
Are you a whipped and wimpy mom like me? Or are you shouting through your computer right now for me to grow some ba*#s!!!! Either way, I'd love to hear what you think ;o)
Now, on a much calmer note, here are the rest of my pictures continued from yesterday.
These first couple shots are of my mom and step-dad.
I love these next few pictures of my mommy! She's so pretty!
I'm linking up the photo below to the Observing Beauty Photo Challenge over at Pulling my mask off. The theme is green!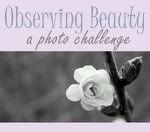 Me and my fresh baby!
I'm linking up the photo below to the Sweet Shot Tuesday Photo Challenge over at My 3 Boybarians.
As a reminder, I recently added the Google Friend Connect gadget to my sidebar for those interested in joining the site. You just have to scroll down the page a little to see it. Additionally, I just published a Contact Me page to the tabs below my blog header where you can either email me or follow me on Facebook, PInterest, and/or Instagram! Happy Navigating!